When the perfectly planned, pieced and pressed pattern creator Julia of Briar Hill Designs meets up with the fabulous free motion facilitator Dara of Stitched Quilting Co the result is the magnificent Monthly Mini Quilt Along. Julia and Dara have never met in person as they live on the extreme east and west coasts of Canada, however their love of all-things-quilting drew them together to create 'Coast to Coast' and this collaboration project: the Countryside Mini Quilt Along. A "block of the month" that also provides community, skill building, free motion instruction, and finishing skills.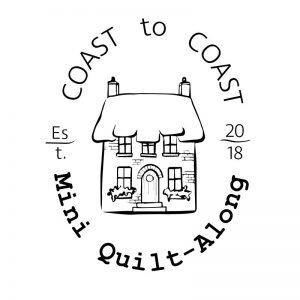 Quilting happens at all levels. If you would like to increase your skills and abilities, come and tap into the rich knowledge base of these two quilters who will teach you starting from the basics of quilting to a variety of quilting techniques ranging from piecing methods to curves, foundation paper piecing, english paper piecing and more. FMQ skills will be taught through Dara's developed method which will build your FMQ confidence more with each tutorial.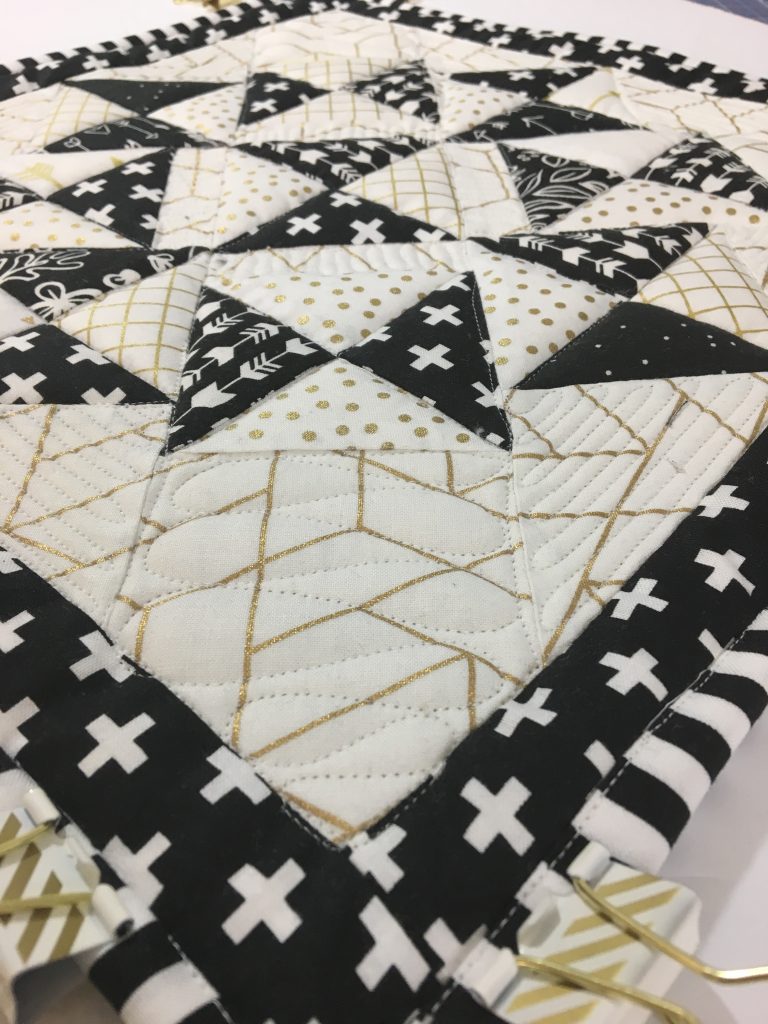 Why Minis? Minis are so versatile! The blocks can be incorporated into other projects you are making, they are a quick gift, a fun way to decorate your sewing space, and a way to learn and practice a new skill and stretch your quilting experience without the intimidation of a large project.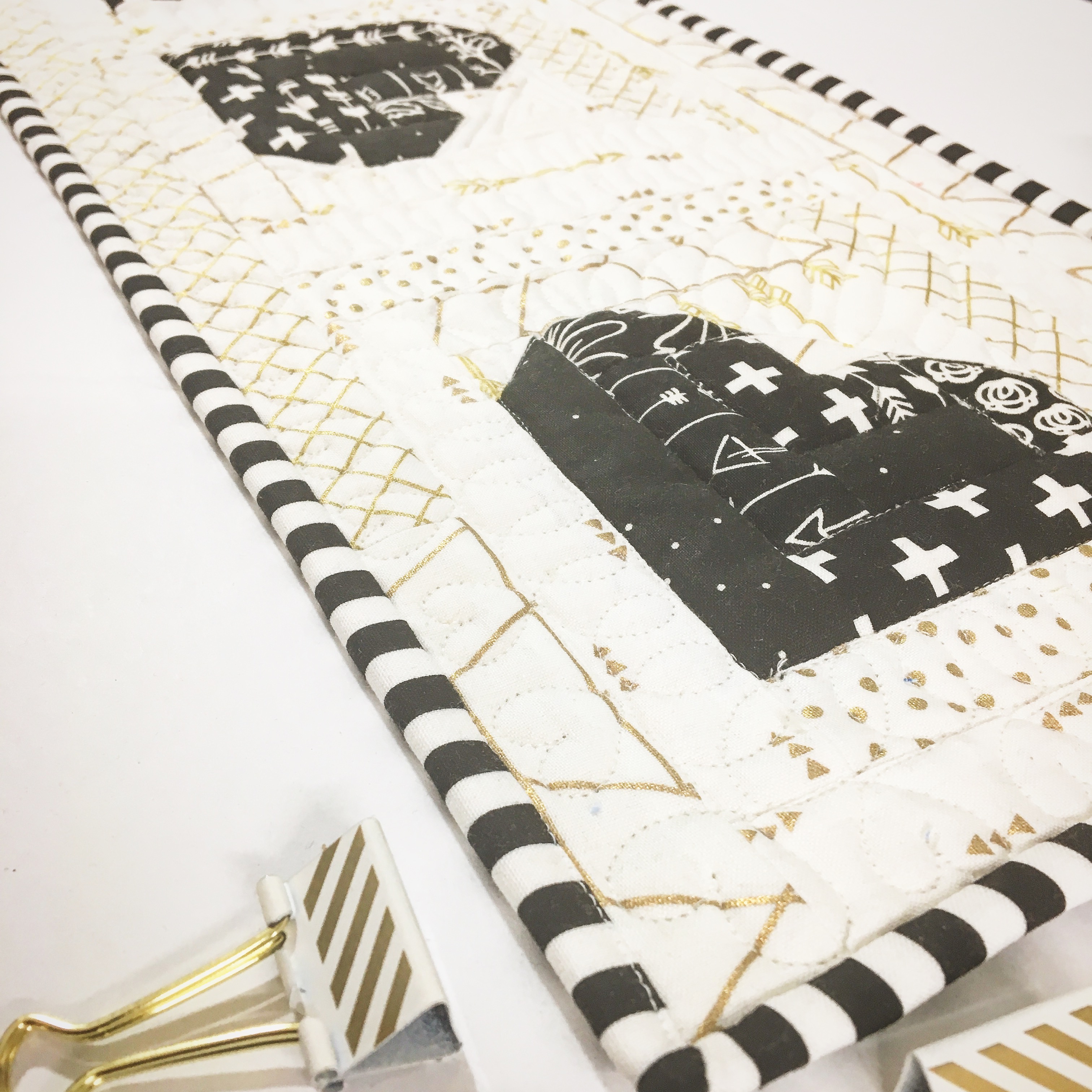 We are so excited to share this Countryside Mini Quilt Along as it has been created so that your quilting skills will develop and grow in a sequential way with small time commitments yielding huge improvements in your skills, building your quilting repertoire.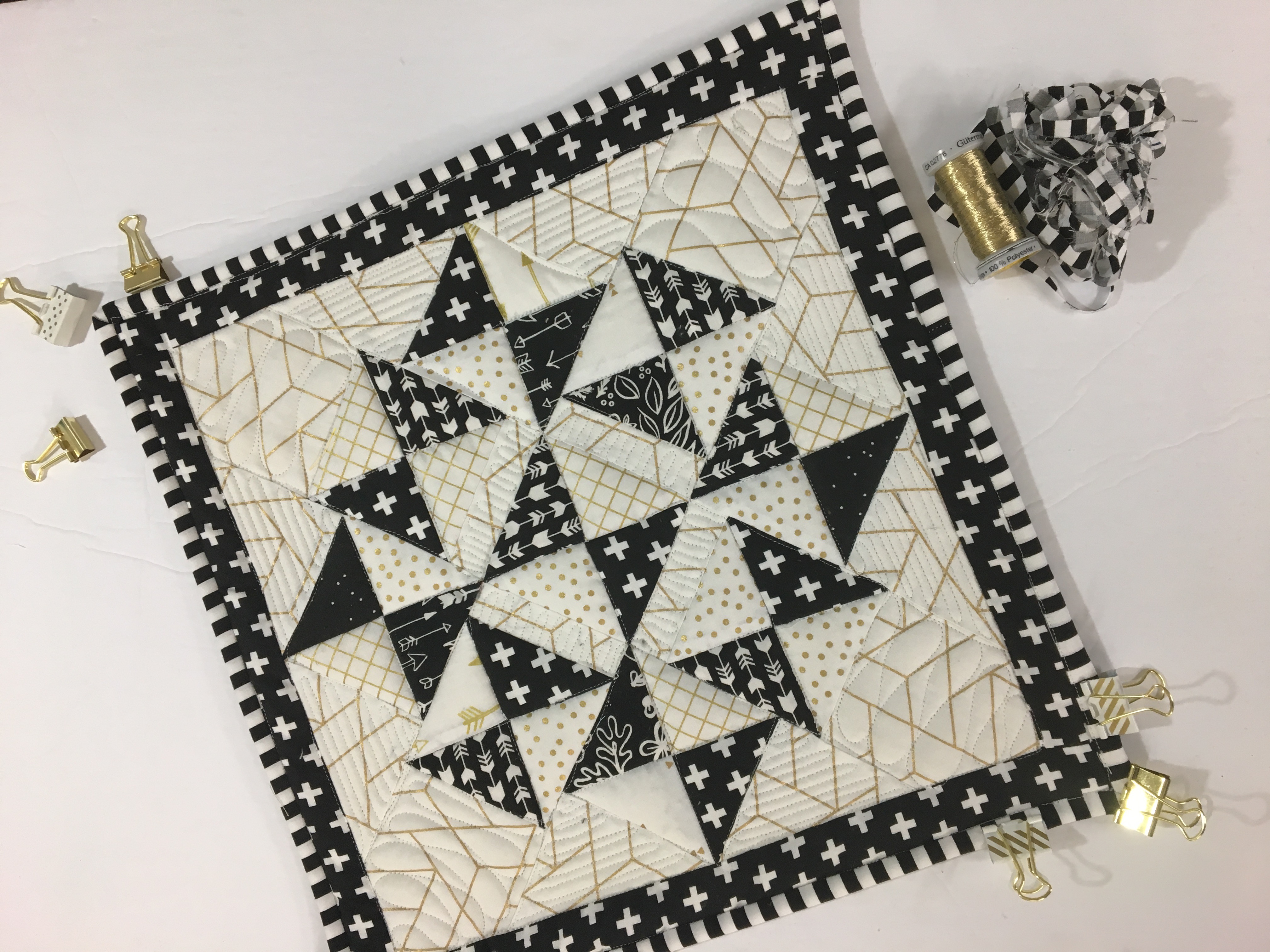 Benefits of being part of our Countryside Mini Quilt Along: (in addition to surprises we'll be pulling out of our sleeves when you least expect it…)
* Receive a new mini pattern designed by Julia Wentzell of Briar Hill Designs. Pattern includes instructions, diagrams, tips, and new skills to expand your quilty repertoire.
* Video Tutorials by Dara of Stitched Quilting Co. showing ways to FMQ your minis on a domestic machine every month.
* Belong to a community of quilters who share your passion for quilting in a supportive and encouraging private facebook group.
* PDF copies of the blocks can be printed and used to plan out colour placement, and practice FMQ designs before putting needle and thread to mini!
* Opportunities to share your progress, and win giveaways. Enter a photo of the completed block at the end of the month.
*If (when) during the QAL, any of these patterns turn into quilt patterns, receive an exclusive discount for digital patterns upon pattern release.
*First dibs at any exclusive offers from both Julia and Dara.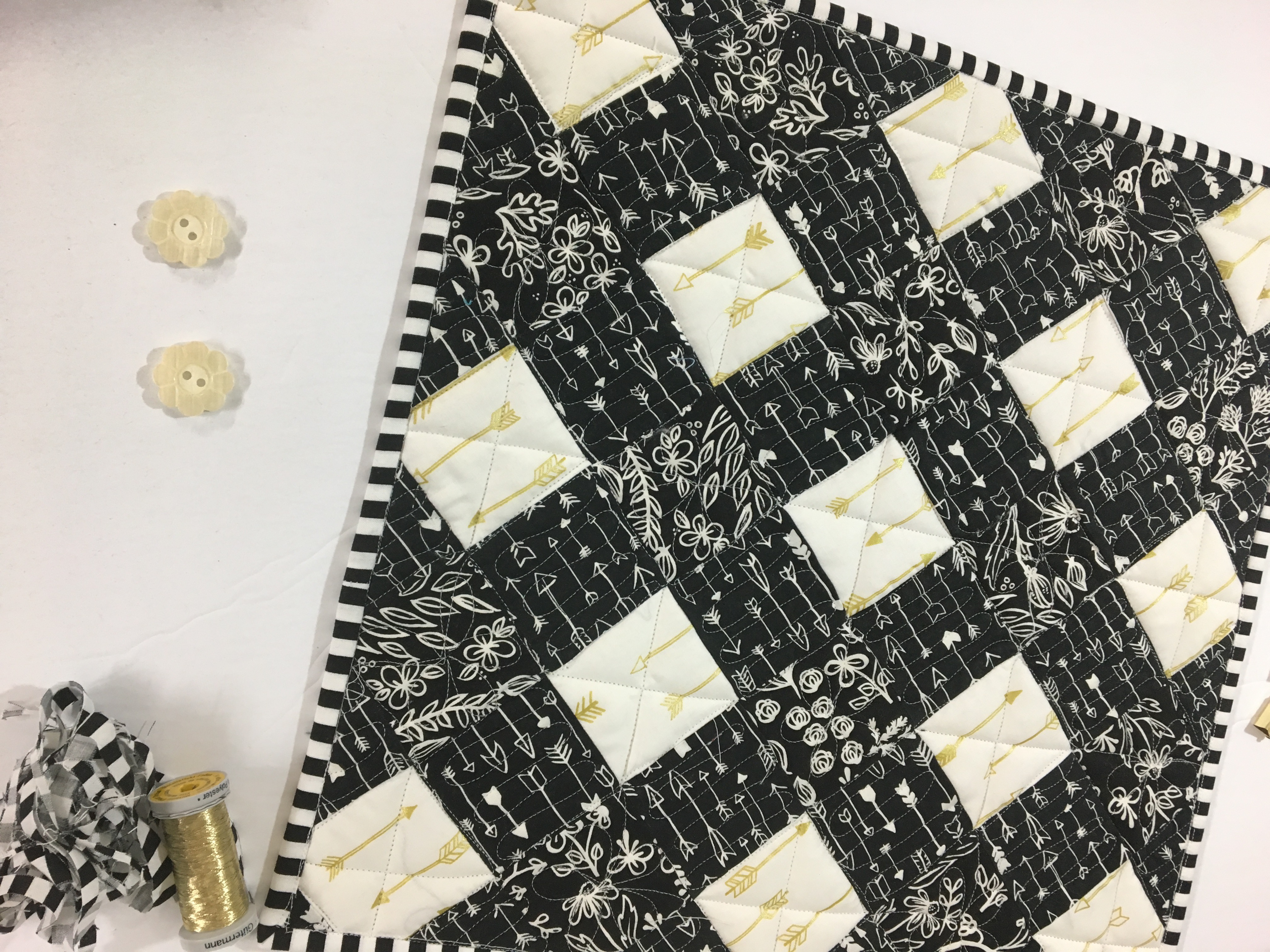 What to expect:
First Monday of the month- new mini will be introduced.
Second Monday- show and share the fabric pull for your mini.
Third Monday- demo video for the free motion quilting.
Fourth Monday to the end of the month- share your completed mini.
Here's a pic of all 12 together: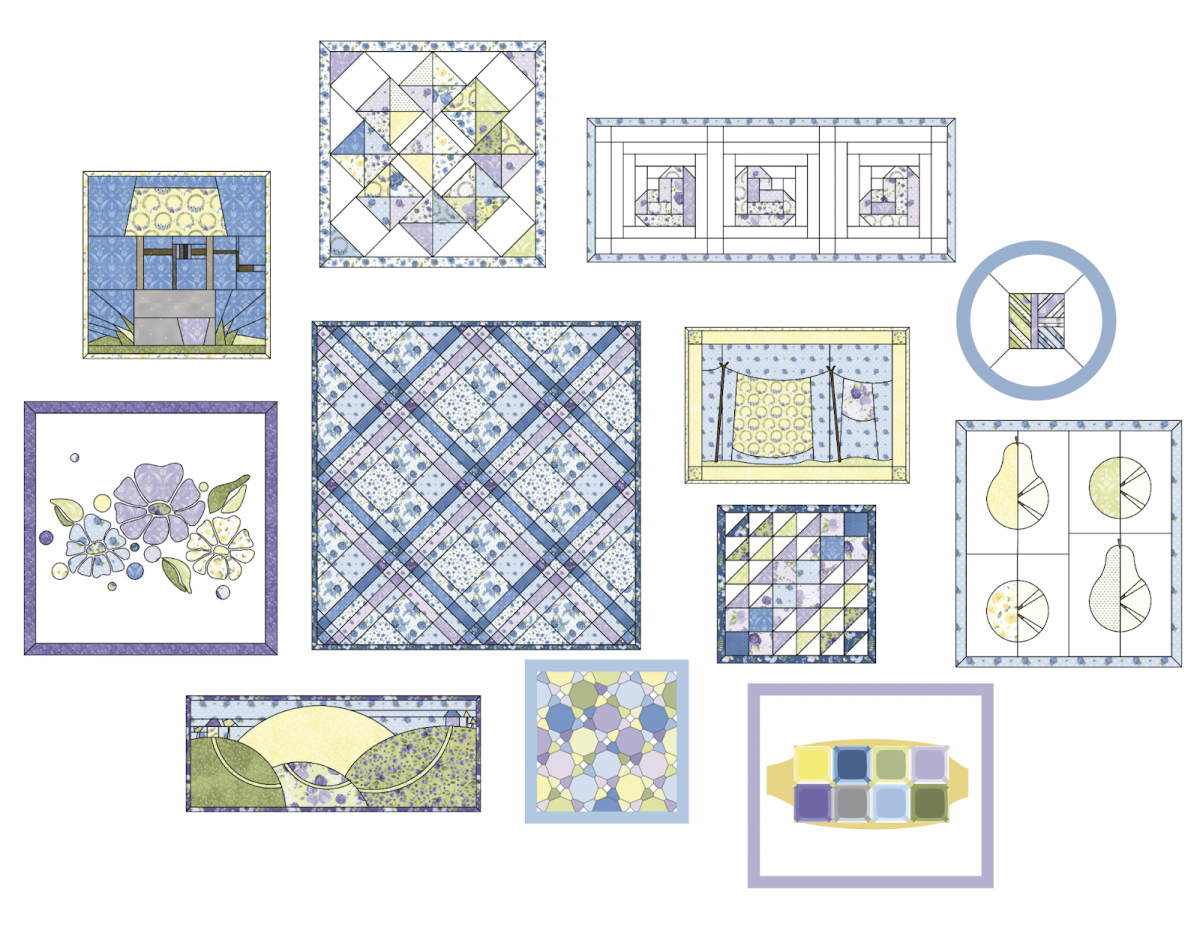 Here's the lesson schedule:
Patterns
1st month -Thorn and Thistle
2nd month- Heartfelt
3rd month- Homespun
4th month- Shawl
5th month- Sunkissed Linens
6th month- Autumn Orchard
7th month- Wishing Well
8th month- Summer Solstice
9th month- Family Ring
10th month- Wildflower
11th month- Friend to friend
12th month- Barn Door Mini
Piecing Skills Taught in the patterns
2-D chain piecing and HST skills
Accuracy
Working with bias and nesting seams
"Transparency" (colour interactions) and strip piecing
Intro to curved piecing, fused raw edge applique, needle turn applique
FPP and Curved Piecing
FPP skills
EPP
Curved EPP ladder stitch
Starch and freezer paper turn applique method
Improv skills
Ultra Mini quilting skills
Talk about value! There is so much to learn here.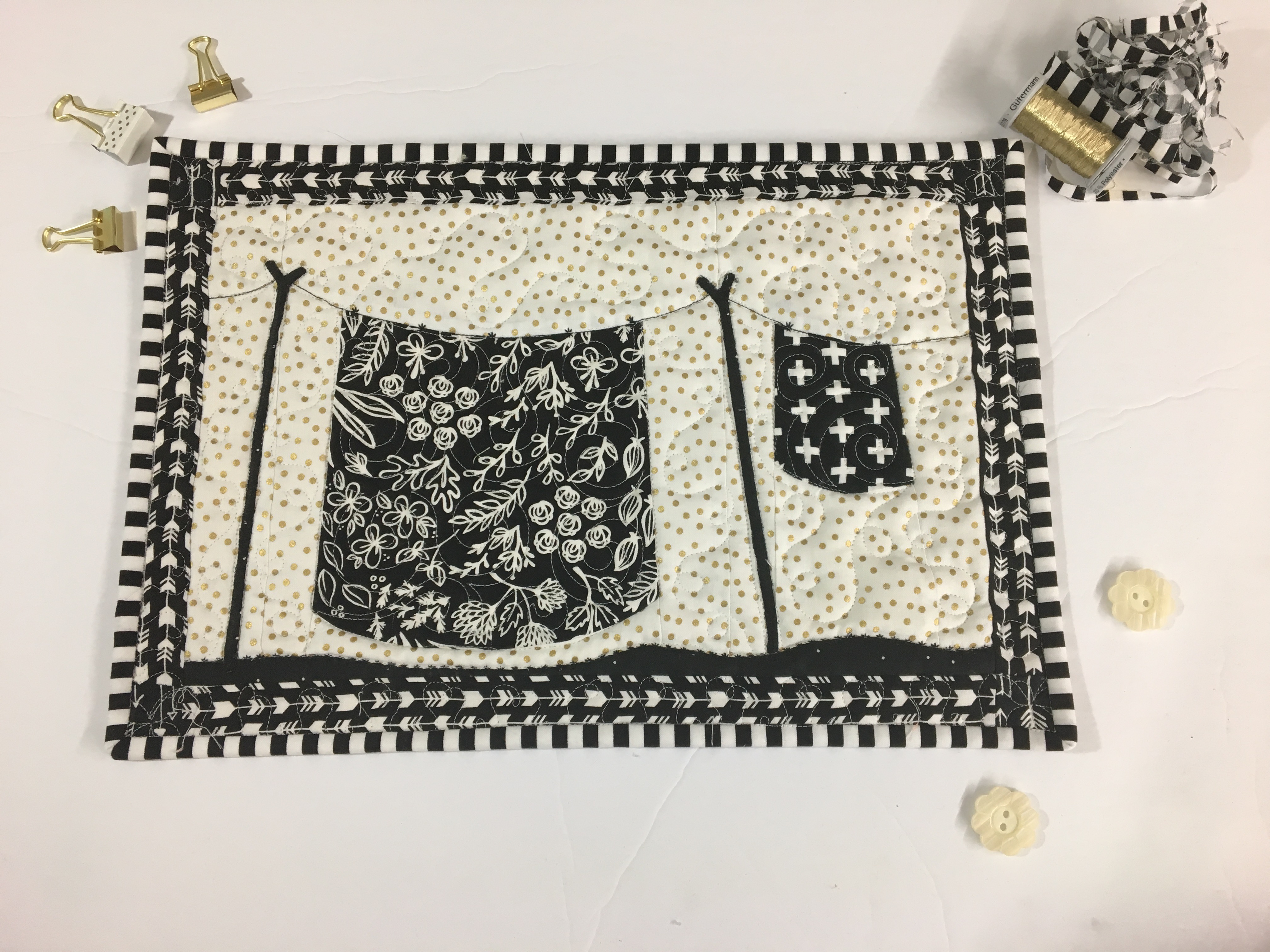 We had started our first group of the Quilt Along in January (their group is from Jan – Jan; this new group in June – June), and here's some feedback from one of our participants!
Review of the Quilt Along
When I joined Coast to Coast Quilt Along, I wasn't sure what to expect. In the past I had belonged to several quilting groups and guilds and had participated in a lot of Block-of-the-Month clubs with different quilting shops but had never done any quilting 'on-line' before. What a treat this whole adventure has been. Julia's patterns are fresh and pretty – and present enough of a challenge to keep me interested and yet allow the beginning quilters/sewers in our group to keep up. I love the personal attention and encouragement that is available. The help is there quickly and in a timely manner, as is the praise and critique, and not just from Julia and Dara, but the other members of our group…we've become a cheering squad for each other! I'm learning the most from the videos and help received from Dara regarding the free motion quilting aspect of the group. I had always just meandered or stippled my quilts, or sent them out to be quilted professionally, but the lessons and tips we get on the videos has been helpful, enabling and fun. Because we work on mini quilts, the projects aren't daunting and the FMQ is manageable, do-able and actually turns out nicely! (This is surprising for me because I have terrible eye-hand coordination!) The first Monday of each month I eagerly look forward to receiving my new mini quilt pattern, and then the third Monday rolls around and my FMQ videos appear – the fun never ends! I'm loving this adventure – won't you join us?
-Suzy Stanford
The cost of this quilt along is $95 for the entire year. You can pay here or hop over to our Facebook page .