Welcome to the Weight Loss for Quilters podcast with Dara Tomasson!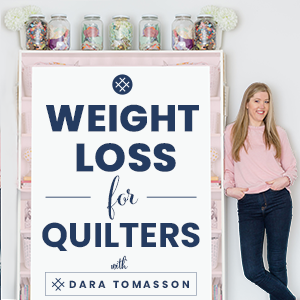 The Weight Loss for Quilters podcast is for quilters that find themselves hiding behind their stitching and quilts because of their constant battle with weight loss.

Today's society has made weight loss way more complicated than it needs to be but the fact of the matter is this….losing weight is like learning a new skill just like a half square triangle or learning how to free motion quilt.
Tune in as Dara breaks down the simple and effective ways to lose weight and keep it off for good…all while creating more joy and peace in your life.
Each episode is designed to help you build the skills you need to lose weight, develop a whole new level of confidence and liberate your free motion quilting skills. You may even find yourself wanting to try new things other than just going to shop hops and organizing your stash… although that never gets old.
I'm giving away $100 gift cards to Lisa Bongean's Primitive Gatherings shop to 4 lucky listeners. Keep reading to find out how you can enter!
Listen to the first episodes:
Ep #1: The #1 Tool for Losing Weight -As quilters, we love our tools and know how important they are. In this episode, I'm introducing you to one of my personal favorites to show you a different approach to the weight loss process.
Ep #2: The Only 2 Reasons You're Overweight – Is your weight gain a mystery? It sure was for me for the longest time. I didn't know why I was so overweight, and it even got to a point where I was seeing a hormone specialist because I felt that out of control. If this sounds familiar to you, where you've historically had a bad track record with your weight, you've tried all the things and you haven't had success, this episode is for you.
Ep #3: How to Heal Your Relationship with Yourself – What dictates how much happiness you allow yourself to feel on a daily basis? Tune in to discover how to begin healing your relationship with yourself. I'm showing you why we're at the mercy of external conditions to feel happy, how it's not your fault that you've lost the ability to trust in yourself, and how to begin rebuilding unconditional love in the weight loss process.
Here's what you should do right now to sign up for your weekly dose of Weight Loss for Quilters: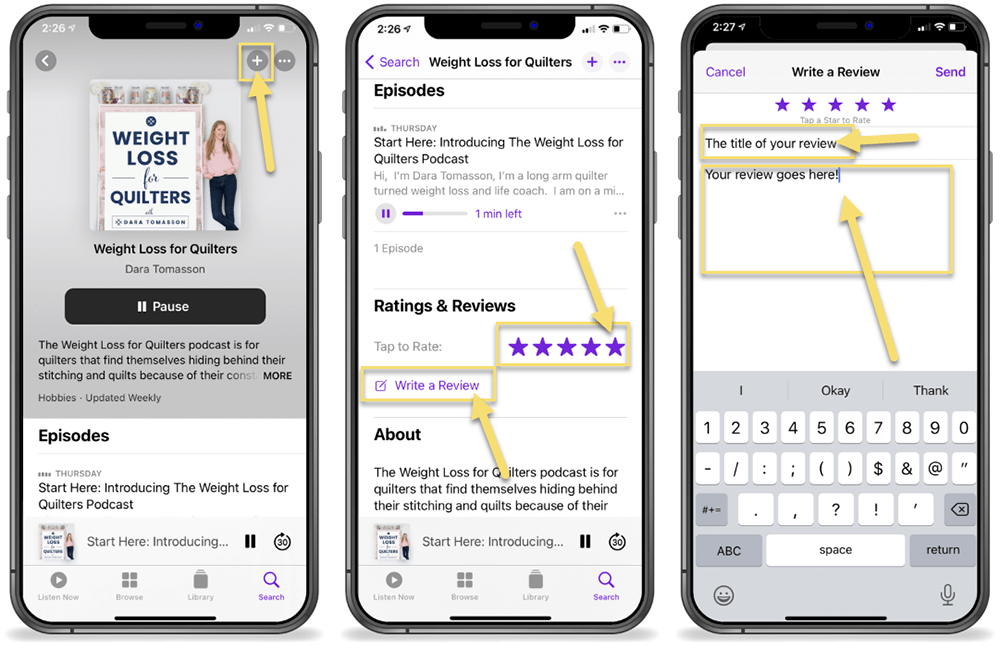 1. Follow in Apple Podcasts
To follow in Apple Podcasts, visit the Weight Loss for Quilters podcast page and click on the "Listen on Apple Podcasts" button. (Note: If you're on a PC or Android, you can download the iTunes app and leave a review there!)
This will launch Apple Podcasts and bring up the podcast.
Click on the "+" button in the upper right and you're all set!
You can also listen to the podcast via Spotify, Stitcher Radio, or wherever you get your podcasts.
2. Review the podcast and enter to win
I'm giving away $100 gift cards to Lisa Bongean's Primitive Gatherings shop to 4 lucky listeners who review the podcast in Apple Podcasts!
How to Enter: Once you've listened to an episode or two, tap the stars and click on the "Write a Review" link on the Weight Loss for Quilters podcast page in Apple Podcasts to leave a review.
3. Any review qualifies you to win
I want you to be honest, tell me what you think, and how I can make the podcast even more helpful… Make sure you hit "Send!"
Apple Podcasts doesn't release contact information for reviewers so you'll need to take a screenshot of your review and fill out this form for your official entry.
You can also find the show on Stitcher and Spotify.