Last spring I had the pleasure of teaching a free motion quilting class at ModBee. It was so fun to connect with quilters all over the world.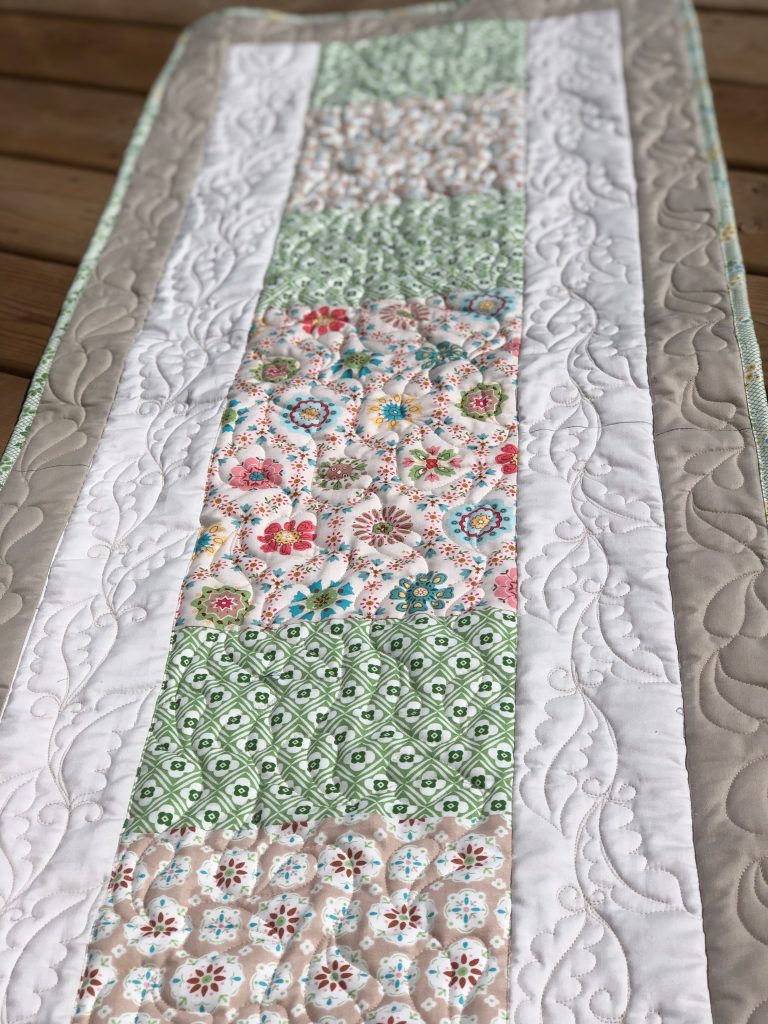 Well Liz and Elizabeth have organized a fall quilting bee. I couldn't be more excited about the fall inspired table runner I have designed and quilted up for you. I will be teaching 2 classes this time.
The first class will be me showing you how to piece the runner. If you are new to quilting this will be fabulous. If you have more experience with quilting this is a straightforward project but if you are like me, I am always interested in seeing how other people do things.
The second class is showing how to do the free motion quilting of the leaf designs. I will be showing how to quilt them on the domestic and on the long arm.
I am curious to know how many of you were able to take advantage of my first free motion quilting class in last ModBee? I know that free motion quilting can be very daunting and it is much easier to send your quilts off to a long armer (they appreciate you). I purposely chose to do a small project so that it would not be overwhelming to tackle on your domestic.
I used Lori Holt's most recent fabric line.
Please let me know if you have any questions at all about fabric selection or thread or needles. I recommend that you get a topstitch needle 90/14 with 50 weight thread (my favourite is So Fine by Superior threads. Make sure that you have a quilting table for your machine. I also really like using Machinger gloves.
Here is the coupon code for registration:
coupon code DARA
Looking forward to seeing you soon.
Haven't signed up yet? Here is the link: https://www.eventbrite.co.uk/e/mod-bee-quilting-conference-tickets-69350676741?aff=erelexpmlt
If you use DARA you will receive $20 off for the entire weekend. There are awesome classes running all day and night September 26, 27 and 28. This is full on binge worthy time. So maybe get the husband a golf package or send the kids to the grandparents and celebrate quilting with others all over the world and feed your quilting self.