Why spend time, money and effort in creating quilts to give away?
Great question right?
I am super curious to hear your experiences in giving quilts away. Please share- like I always say: sharing is caring.
Here are a variety of quilting causes that are very worthwhile
Sometime charity quilting occurs when there is a tragedy and we all come together to spread the love. On April 6 2018, a junior hockey team in rural Canada was devastated when their bus was hit and 16 were killed. There was a huge outpouring of love. Making these quilts and hosting a fundraiser to help with costs helped me so much in trying to reach out and help so many who's lives were changed forever.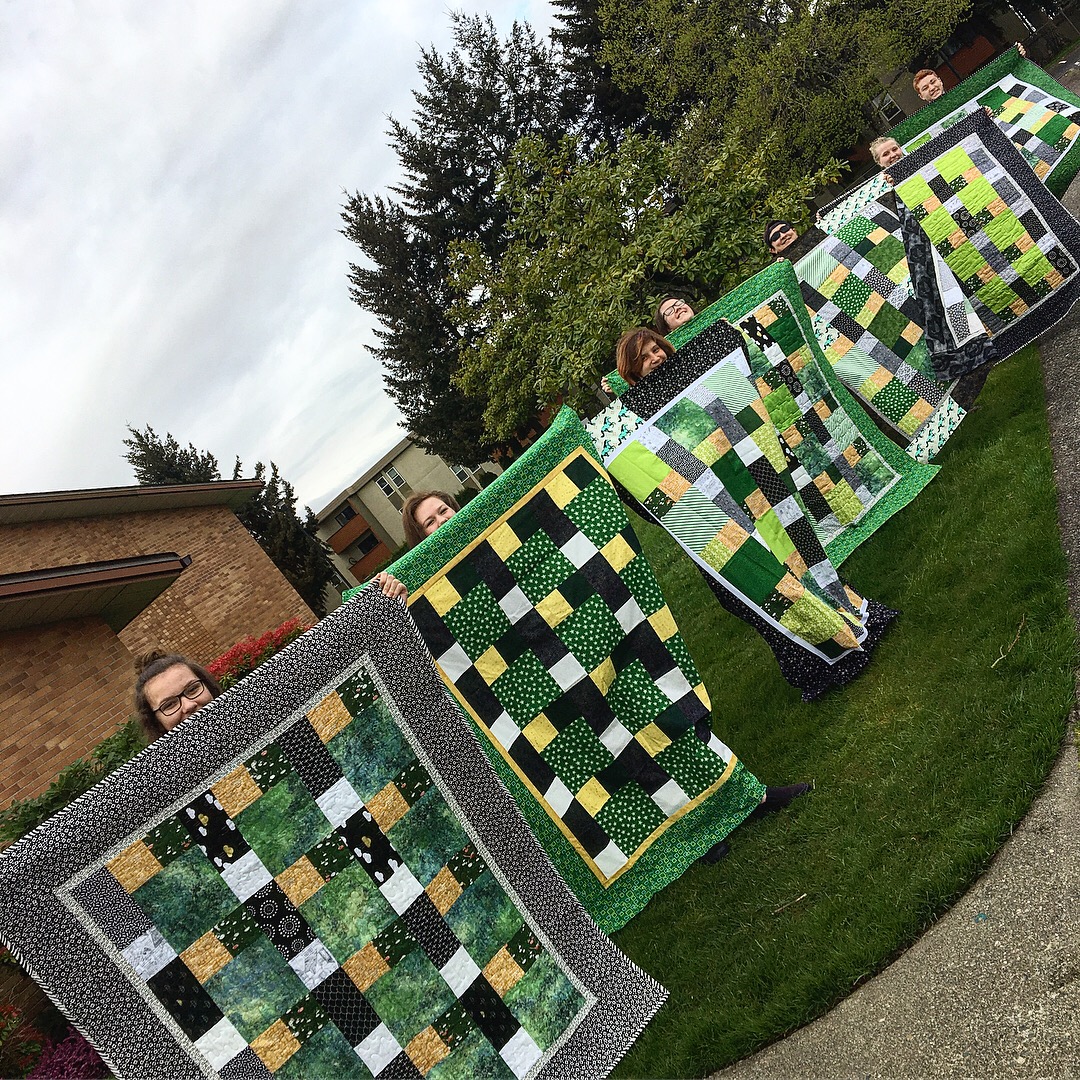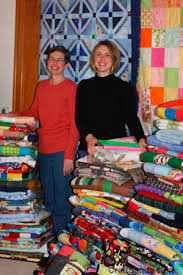 This is my friend who started this with her mom/ Margaret's Hope Chest which was born out of tragedy. Her grandmother was killed while being robbed in the grocery store. She knew it would have been easy to lose hope and despair in human kind's potential for evil. As a Christian as she was reading Romans 12:12-13, "Be joyful in hope, patient in affliction, faithful in prayer. Share with God's people who are in need." By the grace of God and the guidance of this verse she was able to see past her own pain and confusion and look out upon a world filled with countless other hopeless people – people who were in the middle of equally painful circumstances. Margaret's Hope Chest is a blending of two passions in my life – quilting and helping to spread God's hope in a broken world.
I had the opportunity to contribute to her cause. One of my favourite projects is their prison program where they provide quilts for the dad's to give to their children at Christmas.
Quilts for Families of Fallen Officers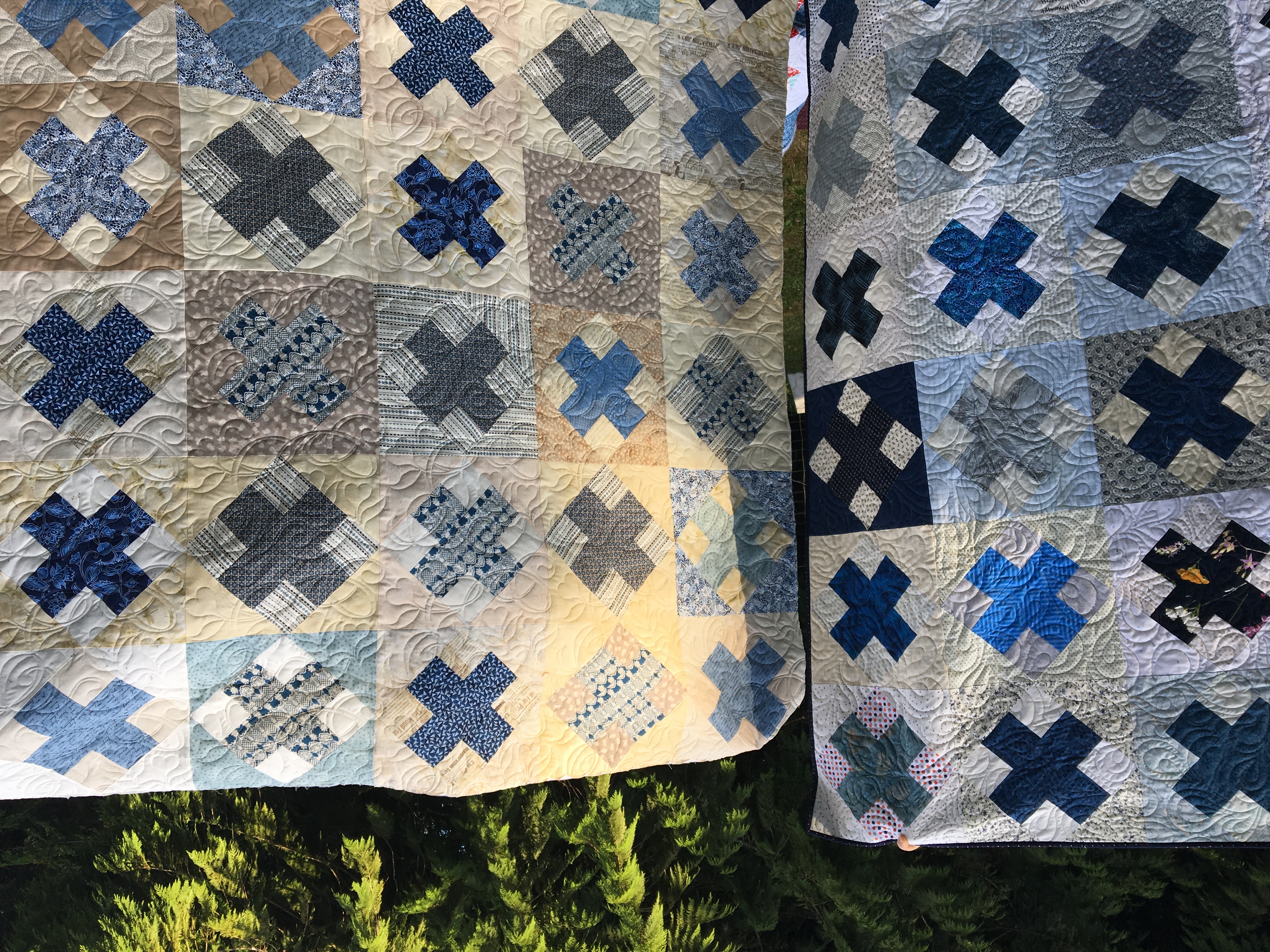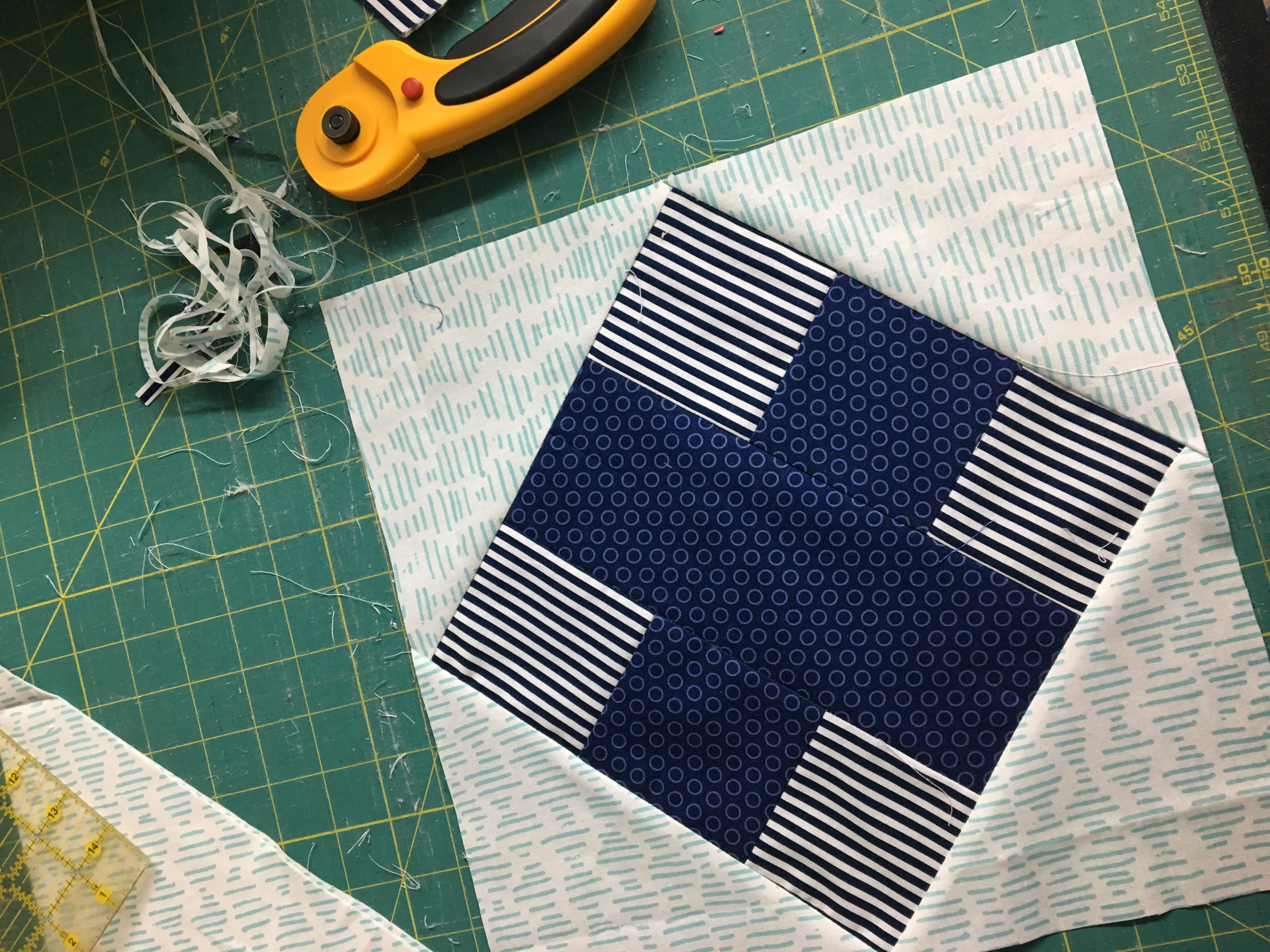 You can make these blocks and send them to me as I co-ordinate this effort in Canada.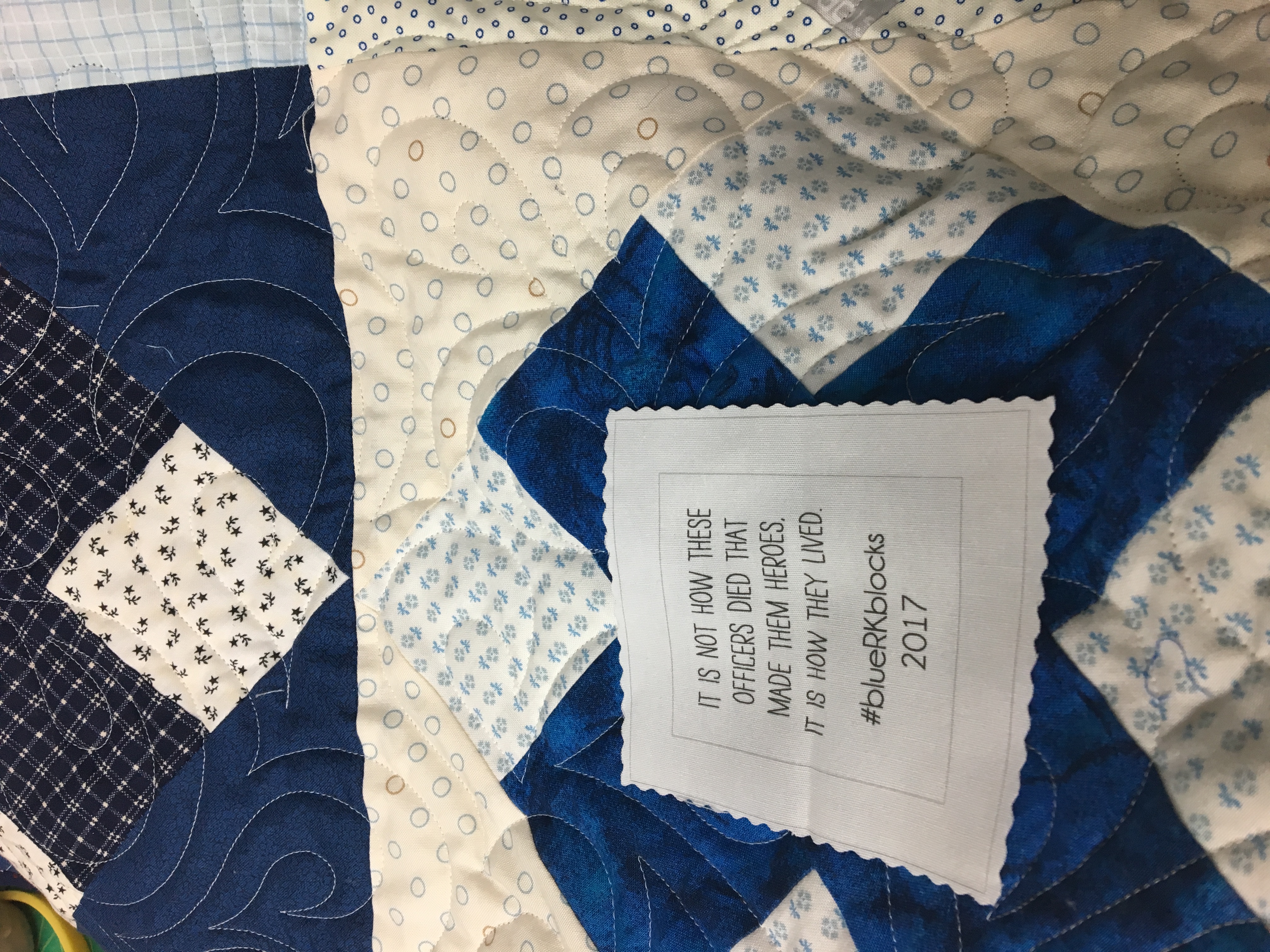 Using Your Sewing Skills for Good
Amy Smart From Diary of A Quilter came up with a very systematic approach to organize her time in sewing for a good cause. Sewing for good is important to her and I love that she offers some really great options. Every month she has selected a new cause. Here is the link to her Sew Goodness year approach. 

Project Linus
This has been inspired by the cartoon from Charlie Brown with the character Linus who always walks around with a 'blankie'. This is a national organization with chapters all over North America. I find that its very well organized. Blankets do not need to be quilted, they can be crocheted and made from polar fleece also.
Ronald McDonald House
Another National organization to contribute to. These homes provide a place to stay when families have a child in the hospital. Their goal is provide a quilt for every child that comes through their doors and stays with them. Here are some stories that will warm your heart.
My Personal Experience
Some of my favourite experiences is giving quilts to those I know and love. My dad's wife has cancer. I inherited this unfinished quilt from a lady. So I decided to quilt it up along with the binding. During one of our Sunday dinners I had individual family members go into a separate room and sign her quilt. We then presented it to her. That was 3 years ago. She just told me last month that it is 'her' blanket and she uses it every day and is always reminded of how much she is loved.
My grandfather was a wheat inspector and worked at the Alberta Wheat Pool. I commissioned a lady to create these beautiful blocks and then I quilted this top for my dad for Christmas. Every time he walks in his room he is reminded of his father and his daughter who created this quilt for him. He often reminds me how much he appreciates the quilt.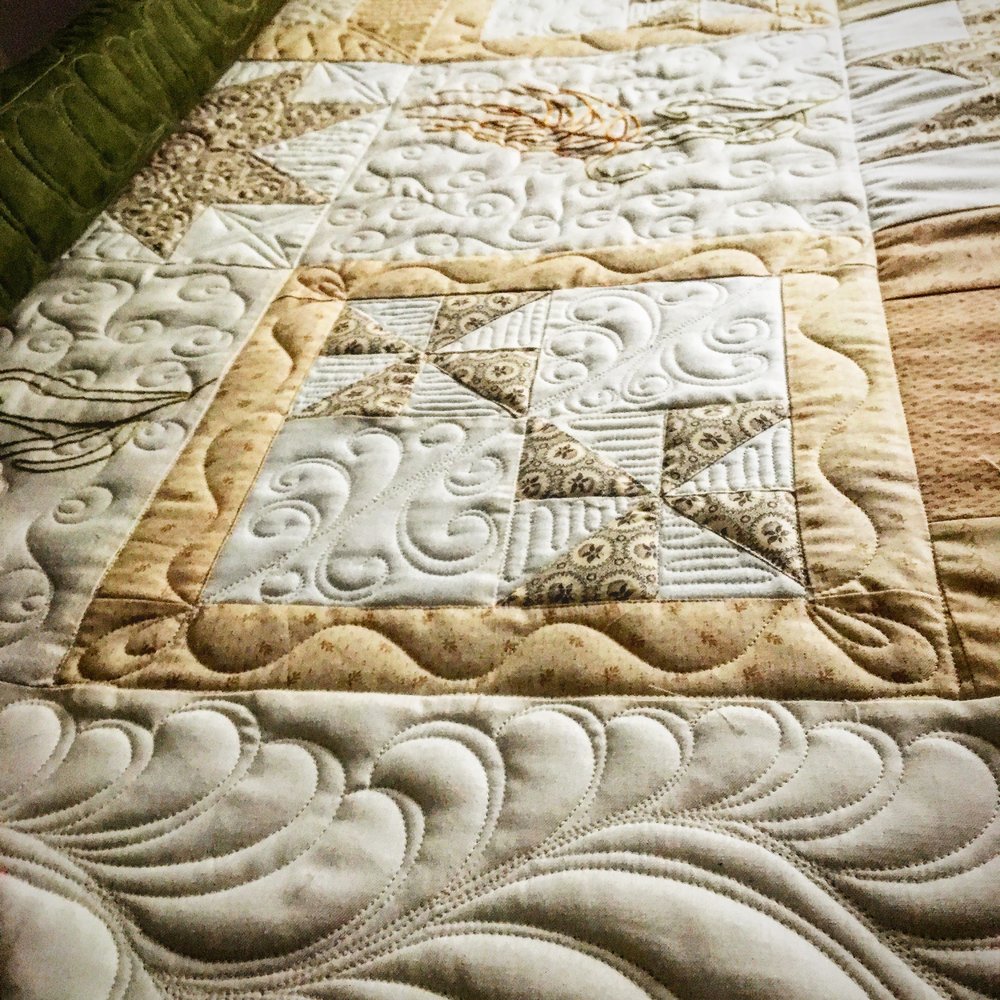 In my season of life I am taxi driver after school and cheerleader for my kids so attending a quilt guild meeting is almost impossible. So organizing this charity quilt drive is my way of feeling connected to other like minded women who are driven to add more love in the world by stitching away.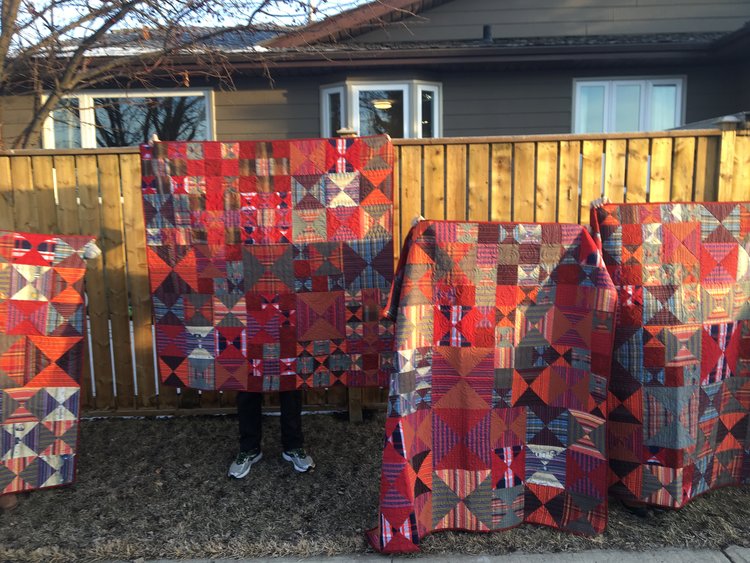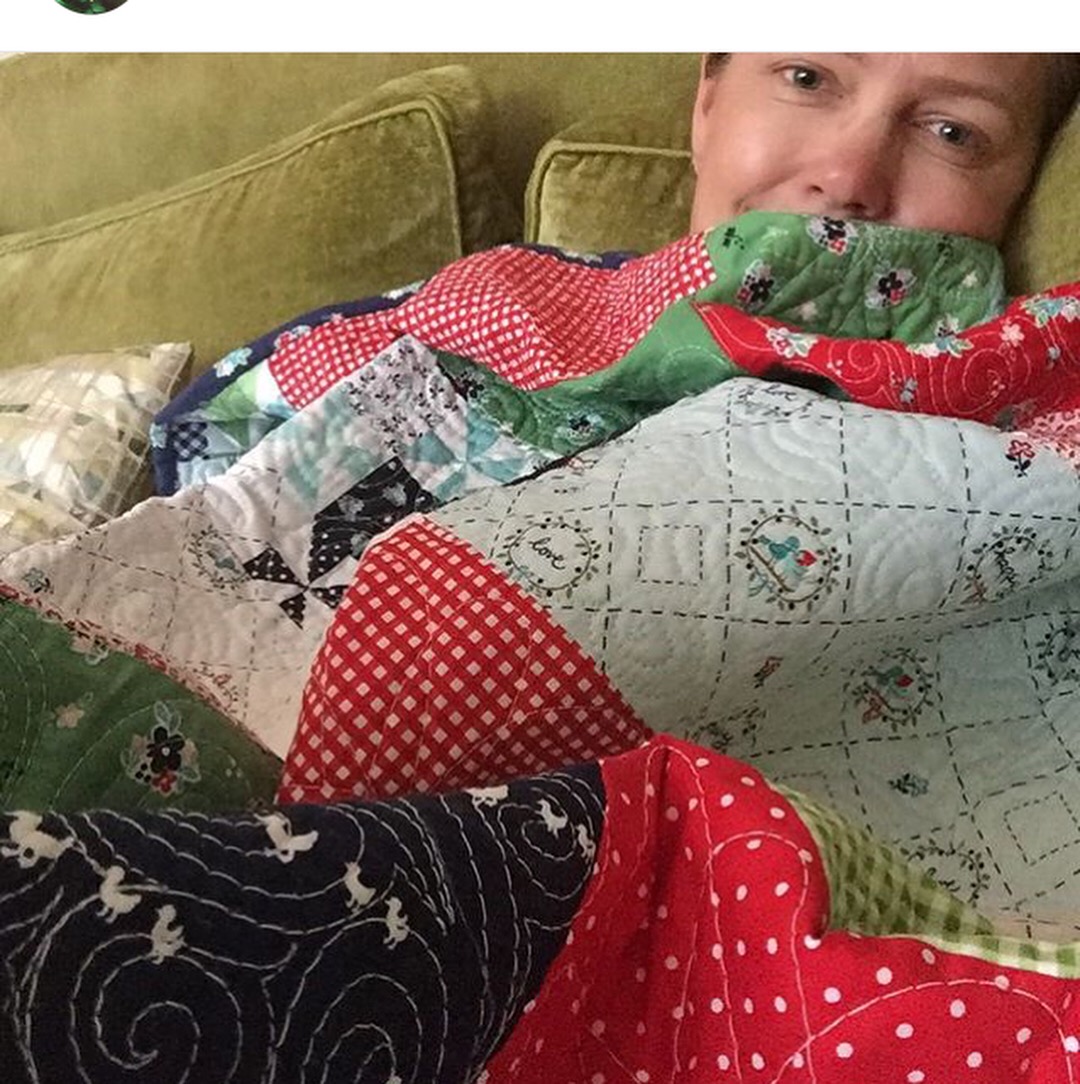 This is a pic of my sister a few years ago- she calls this her adult blankie. She lives on the other side of the country and we don't get to see each other very often is when she has the quilt she feels connected to me.
For every quilt donated to whatever or whomever, I am asking you to tag me in the pic or simply message me and I will put your name in a draw and then I will put up one 5 inch block on my pixel heart quilt. I need 208 blocks.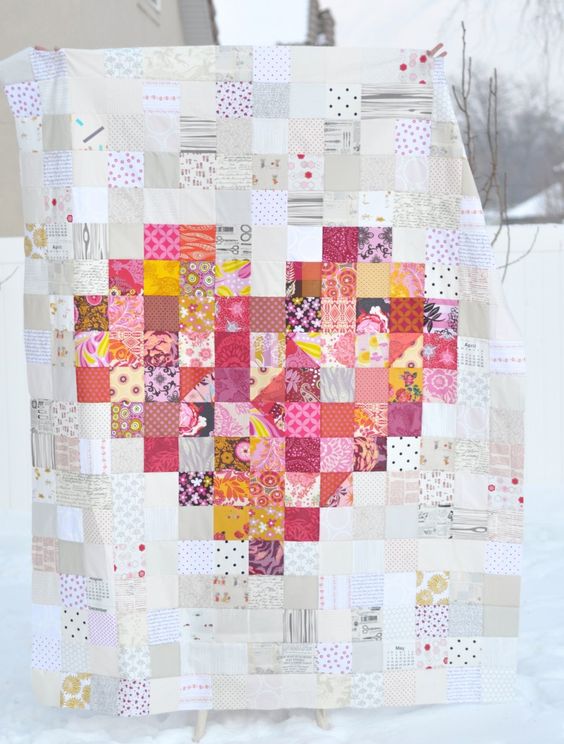 So if you want to contribute and join in building my pixel heart quilt please do!! When the quilt it all sewn I will quilt it up, bind it and raffle it off from all those who contributed.
If making a whole quilt is too much and you would really like to contribute, you can make the 12.5 inch #bluerkblocks for the quilts made for the families of the fallen officers. The tutorial is found here.
 I really want to thank my sponsors for this amazing cause- Riley Blake Designs for all the gorgeous fabric, fabric mats and rulers, Clover USA for all the fantastic tools that makes my quilting so much easier, Binding Babies for the final touch and WinLine Batting for the lovely variety of binding.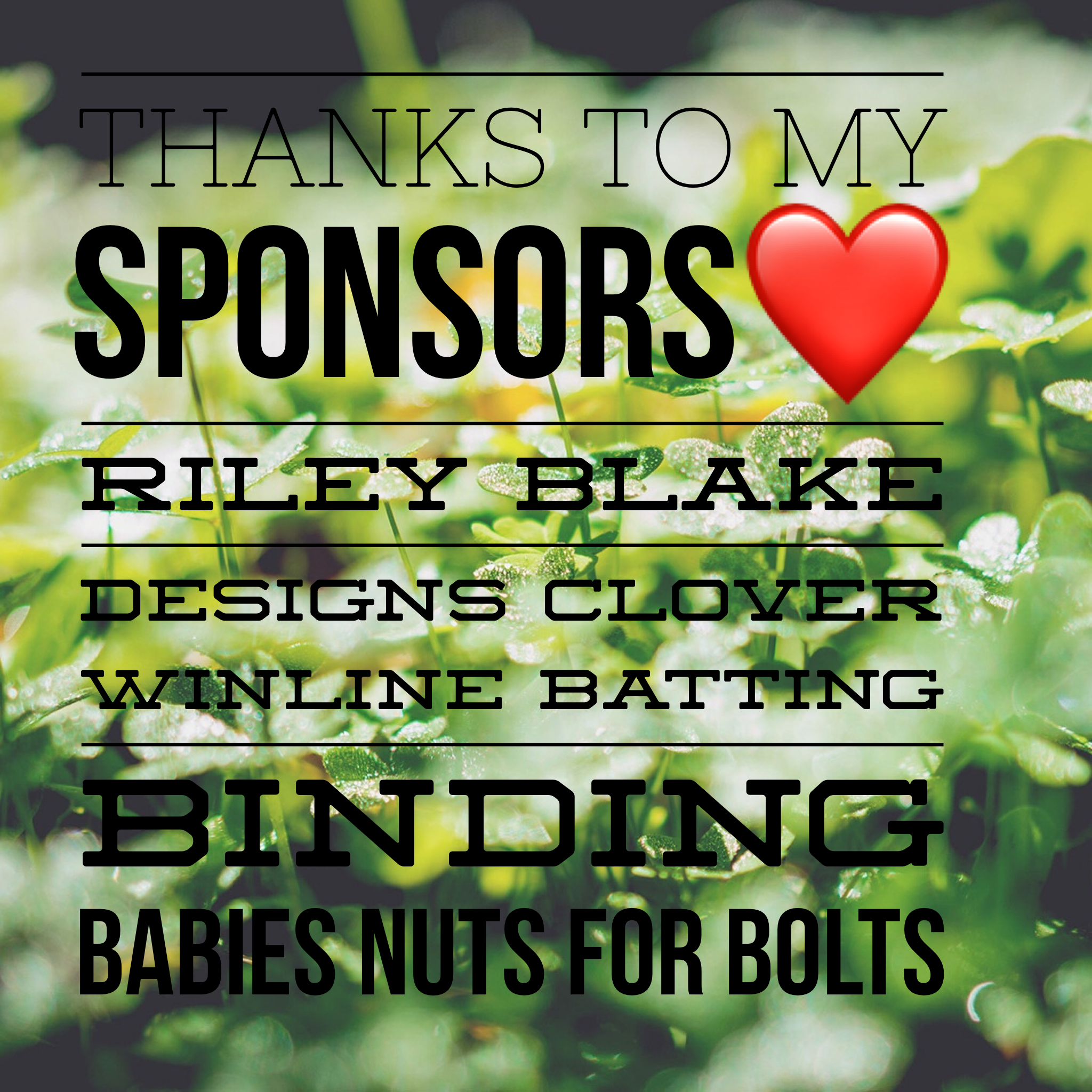 Can't wait to see what quilt you come up with! I love sharing all the quilts that are being made and given to create more love in the world one quilt at a time.